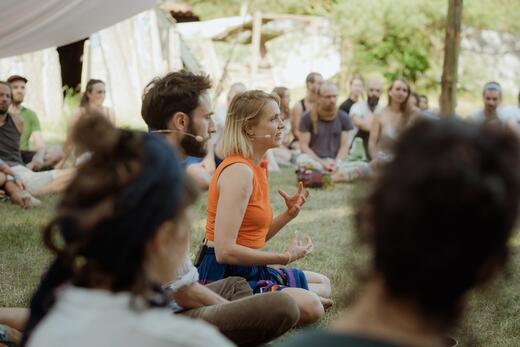 Retreat and Workshop Facilitation
Für den Kauf erst einloggen
More details
I am a facilitator and community weaver working at the intersection of inner and outer systems change.
I have always been curious about how humans can be in healthy relationships with each other and the earth. Drawing on my anthropological studies, my work in leadership education and community building, I have developed a varied toolbox to nourish cultures of interbeing.
I love cross-pollinating ideas and projects. My current project portfolio includes stewarding the Church of Interbeing, hosting experiential and educational formats for local citizens with CitizensLab, supporting the Huddlecraft Host Fellows as a mentor and guiding wilderness rites of passage with the Wild Minds Collective.
I like to facilitate in playful, embodied ways and use the power of ritual to imbue life with meaning. You can find more information about my current offerings here: https://linktr.ee/carolingoethel
My offers include the following and can be adapted to your organisation's/ group's needs:
- Design and facilitation of group and team retreats
- Design and hosting of co-created gatherings, mini festivals, creative residencies
- Design and hosting of learning programmes, courses and conferences+
- Hosting group processes, ie. building a common culture, vision and mission
- Community building events including offers and needs markets

I charge a day rate of 4000- 8000 CRC, depending on your status (non profit, for profit ..) etc.
Co-payment in CRC and EUR is desirable.
Please book this offer for a half hour consultation call to talk about your enquiry. Then please book a time slot via this calendly link.
https://calendly.com/carolin-goethel/facilitation?month=2022-11
More information about my current offerings:
https://linktr.ee/carolingoethel