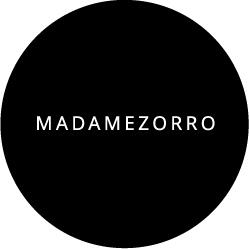 MADAMEZORRO
Welcome to MADAMEZORRO,
i'm an artist and a freedom loving person, thats why i created MADAMEZORRO to be my own chef and always be able to choose to do what i'm interested in at the moment. it feels like a game for me where i work, communicate with material manufacturers, open my store, create displays, meet customers and guests, sit at my desk in the atelier and invent new objects, or produce for hours and at the same time educate myself by listening online. There are also challenges and i learn to react each time anew and to believe that everything that happens is for the best.
Since 2012 i sell pieces created exclusively by myself in the atelier. These are Soft Jewellery (organic cotton jewellery) , Dolls (all made of organic, plant dyed wool), Art (contemporary drawings) and Ourselves (organic minimal clothing - complete universal wardrobe). You can find it all in my boutique in Berlin or a part of it here online. So feel welcome and please contact me with any questions.
Anna
MADAMEZORRO Kastanienalle 40 10119 Berlin
https://www.madamezorro.com/