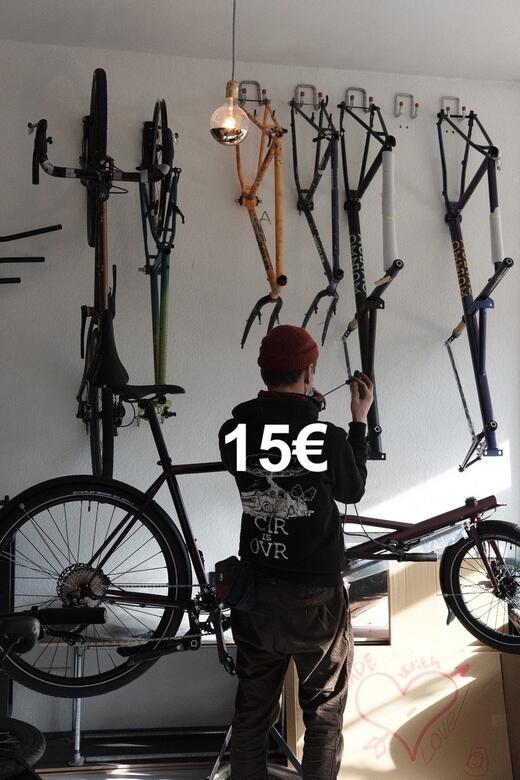 BIKE REPAIR VOUCHER 15
150
CRC
Article sold outQuantity: 0 (available)
Let's make your bicycle fit! (dt. Version weiter unten)
This is an updated version of our previous service "Bike Check Extended". We have now changed to a voucher based system, where you can apply the value to all workshop based services, not only bike checks but also repairs!
Please note: the total amount of vouchers is limited due to our limtation as a subsidy partner. Please do not "hoard" these vouchers and leave some for others. We will continuously release new ones depending on our current level and limits. Thank you for being solidaric!
With our bike check we go through all vital parts of your bicycle, verifying it is safe and sound to continue riding. We apply grease where needed, clean where too dirty (we clean for function, not for looks!) and tighten where loose. We will also check functions of hydraulic brakes, internal gears. Please note we are not servicing suspension parts, there are specialists for this which we are not.
In case we renew tiny parts like screws, they are included. Anything that's needed on top (brake pads, new tires/tubes, braking/shiftling cables, hydraulic hoses, bleeding etc) we charge for the standard price and deduct from your voucher value. This bike check also includes trueing of wheels in case needed.
Waiting time is upon request, it totally depends how busy our workshop team is, the usual is 4-7 working days, but sometimes we also get it done for the next day.
------------------------
DEUTSCH
Wir machen dein Fahrrad fit!
Dies ist eine aktualisierte Version unseres früheren Service "Bike Check Extended". Wir haben jetzt auf ein Gutscheinsystem umgestellt, bei dem Du den Wert auf alle werkstattbasierten Dienstleistungen anwenden kannst, nicht nur Fahrradchecks, sondern auch Reparaturen!
Bitte beachte: die Gesamtzahl der Gutscheine ist aufgrund unserer Begrenzung als Subventionspartner begrenzt. Bitte "horte" diese Gutscheine nicht und lasse auch für andere welche übrig. Wir werden laufend neue Gutscheine freigeben, je nach aktuellem Stand und Limit. Vielen Dank für deine Solidarität!
Bei unserem erweiterten Fahrrad-Check gehen wir alle wichtigen Teile deines Fahrrads durch und stellen sicher, dass es sicher ist und weiterfahren kann. Wir schmieren, wo es nötig ist, reinigen, wo es zu verschmutzt ist (wir putzen auf Funktion, nicht für Schönheit!) und ziehen fest, wo es locker ist. Wir überprüfen auch die Funktion der hydraulischen Bremsen und der innenliegenden Schaltung. Bitte beachten, wir machen keinen Service an Federgabeln und anderen Federelementen, dafür gibt es Spezialisten - die wir leider nicht sind.
Falls wir Kleinteile wie Schrauben erneuern, sind diese enthalten. Alles, was darüber hinaus benötigt wird (Bremsbeläge, neue Reifen/Schläuche, Brems-/Schaltzüge, Hydraulikschläuche, Entlüftung usw.) berechnen wir zum Standardpreis und ziehen es vom Gutscheinwert ab. Dieser Fahrradcheck beinhaltet auch das Zentrieren der Räder, falls erforderlich.
Die Wartezeit ist auf Anfrage und hängt ganz davon ab, wie beschäftigt unser Werkstatt-Team ist. Üblich sind 4-7 Arbeitstage, aber manchmal bekommen wir es auch für den nächsten Tag erledigt.